Chicken Noodle Soup

1 3-pound chicken, cut in pieces
2 onions, quartered
1 parsnip, quartered
2 carrots, quartered
1/2 teaspoon salt
1 bay leaf
2 allspice berries
4 black peppercorns
3 quarts water
1 cup very thin egg noodles
Sprigs of fresh dill, for garnishing
1. In a large stockpot, combine the chicken pieces, onions, parsnip, carrots, slat, bay leaf, allspice berries and peppercorns.
2. Add the water to the pot and bring to a boil, skimming frequently.
3. Reduce the heat to low and simmer 1 1/2 hour, skimming occasionally
4. Strain the broth through a fine-mesh strainer into a bowl. Refrigerate overnight.
5. When the chicken pieces are cool enough to handle, remove the meat from bones. Discard the bones, skins, vegetable, and flavorings. Chop the chicken meat and refrigerate overnight.
6. Remove the solidified fat from the surface of the chilled broth. Pour the broth into a saucepan and bring to a boil. Taste the broth; if a more concentrated flavor is wanted, boil 10 minutes to reduce slightly.
7. Add the chicken meat and noodles to the broth and cook until the noodles are tender, about 9 minutes. Serve hot, garnished with dill springs.
Hearty Lentil Soup
1 cup brown lentils
4 cups chicken stock
1 cup water
1/4 cup dry red wine
1 1/2 pounds ripe tomatoes, peeled, seeded, and chopped, or 2 cups canned crushed tomatoes
1 carrot, sliced
1 onion, chopped
1 celery stalk, sliced
1 garlic clove, minced
1/4 teaspoon ground coriander
2 teaspoons chopped fresh basil, or 1/2 teaspoon dried basil
1 bay leaf
6 tablespoon freshly grated Parmesan cheese

1. Rinse the lentils and discard any discolored ones and any stones.
2. Combine the lentils, stock, water, wine, tomatoes, carrot, onion, celery, and garlic in a large saucepan. Add the coriander, basil, and bay leaf.
3. Bring to a boil, reduce the heat to low, cover, and simmer until the lentils are just tender, 20-25 minutes, stirring occasionally.
4. Discard the bay leaf. Ladle the soup into 6 soup bowls and sprinkle each with 1 teaspoon of cheese.




Winter Vegetable Soup
1 medium-size head of savoy cabbage, quartered and cored
2 tablespoons corn oil
4 carrots, thinly sliced
2 celery stalks, thinly sliced
2 parsnip, diced
6 cups chicken stock
3 medium-size potatoes, diced
2 zucchini, sliced
1 small red pepper, seeded and diced
2 cups cauliflower florets
2 tomatoes, seeded and diced
1/2 teaspoon fresh thyme leaves or 1/4 teaspoon dried thyme
2 tablespoons chopped fresh parsley
salt and pepper
1. Slice the cabbage quarters into thin strips across the leaves.
2. Heat the oil in a large saucepan. Add the cabbage, carrots, celery, and parsnips and cook 10-15 minutes over medium heat, stirring frequently.
3. Stir the stock into the vegetables and bring to a boil. Skim off any foam that rises to the top.
4. Add the potatoes, zucchini, bell pepper, cauliflower and tomatoes with the herbs, and salt and pepper to taste. Bring back to a boil. Reduce the heat to low, cover the pan, and simmer until the vegetables are tender, 15-20 minutes.
Fresh Tomato Soup
2 tablespoons butter or margarine
1 onion, chopped
2 pounds tomatoes, quartered
2 carrots, chopped
2 cups chicken stock
2 tablespoons chopped fresh parsley
1/2 teaspoon fresh thyme leaves or 1/4 teaspoon dried thyme
1/3 cup whipped cream (optional)
salt and pepper
1. Melt the butter or margarine in a large saucepan. Add the onion and cook until softened, about 5 minutes.
2. stir in the tomatoes, carrots, chicken stock, parsley and thyme. Bring to a boil. Reduce the heat to low, cover the pan, and simmer until tender, 15-20 minutes.
3. Puree the soup in a vegetable mil. Return the pureed soup to the saucepan.
4. Stir in the cream, if using, and reheat gently. Season with salt and pepper. Ladle into warmed soup bowls and serve hot, sprinkle with a little more thyme, if you wish.
Rib Roast Dinner

You will need:
For the Potatoes-
6 large russet potatoes, scrubbed
1 tablespoon butter or margarine
1/2 cup diced red bell pepper
1/2 cup diced green bell pepper
2/3 cup chopped yellow onion
4 sliced baked ham (about 4 ounces), diced
1 1/2 cups shredded Colby cheese, divided
2 tablespoons milk
2 tablespoons sour cream
For the Roast-
1 tablespoon coarsely cracked black peppers
1 2 1/4 pound boneless rib roast or tenderloin
1/4 cup fresh flat-leaf parsley
1 tablespoon fresh chives
1 tablespoon fresh tarragon
1 tablespoon dried thyme
Step by step:
Making the Potatoes-
1. Prepare oven to 400F, Pierce potatoes several times with a fork. Bake until tender, about 1 hour. Meanwhile, melt butter in a large nonstick skillet set over medium heat. Add peppers and onion; sauté until tender for 5 minutes
2. Reduce temperature to 350F. Cool potatoes slightly. Slice tops off potatoes and scoop out pulp; reserve skins. In a bowl, mash pulp cream and vegetable mixture. Spoon mixture into potato shells.
3. Sprinkle potatoes with remaining Colby. Place on backing sheets. Bake until heated through, about 20 minutes. Serve with roast.
Making the Roast-
1. Increase oven temperature to 425F. Rub the pepper evenly over beef, pressing gently so pepper adhere.
2. Place the herbs in a large measuring cup and chop using kitchen shears.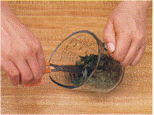 3. On a sheet of waxed paper, combine fresh and dried herbs. Roll beef in herb mixture to completely coat.

4. Loosely tie the beef at 2-inch intervals with kitchen twine. Place beef on roasting rack.

5. Roast until an instant-read meat thermometer registers 155F
for medium (130F for rare, 170f for well-done), about 30 minutes. Let stand for 5 minutes; carve into thin slices.
Cajun Blackened Swordfish

1 teaspoon onion powder
1 teaspoon garlic salt
2 teaspoons paprika
1 teaspoon ground cumin
1 teaspoon mustard powder
1 teaspoon cayenne
2 teaspoons dried thyme
2 teaspoons dried oregano
1/2 teaspoon salt
1 teaspoon pepper
4 swordfish steaks (about 1 1/2 pounds)
4 tablespoons butter or margarine, melted
dill sprigs, for garnishing
1. In a small bowl, combine all the spices, herbs, and seasonings.
2. Brush both sides of the fish steaks with some of the melted butter or margarine.
3. Coat both sides of the fish steaks with the seasoning mixture, rubbing it in well.
4. Heat a large heavy skillet until a drop of water sprinkled on the surface sizzles, about 5 minutes.
5. Drizzle 2 teaspoons of the remaining butter or margarine over the fish steaks. Add the steaks to the skillet, butter-side down, and cook until the underside is blackened, 2-3 minutes.
6. Drizzle another 2 teaspoons melted butter or margarine over the fish, the turn the steaks over. Cook until the second side is blackened and the fish flakes easily when tested with a fork, 2-3 minutes more.
7. Transfer the fish to warmed plates, garnish with dill, and drizzle with the remaining butter or margarine.