Quesadillas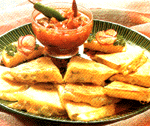 6 flour tortillas, 8"
1/2 diced green chilies
1 cup each: shredded cheddar, jack cheese
1/4 cup sour cream
1. Mix cheese, sour cream in bowl, add chilies and stir, set aside
2. Heat 2 teaspoon butter in skillet over medium heat. Add tortilla and sprinkle on thin layer of mixture from step 1 to cover surface. fry 30 seconds, fold tortilla over into half circle to form quesadilla. Continue cooking, turning often until cheese is melted and tortilla is golden brown.
3. repeat step 2 for each tortilla. Cut each quesadilla into 3 wedges shaped pieces, serve with salsa and eat while warm.



Seven-layer Bean Dip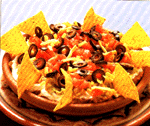 2 cup dried pinto beans.
1/2 cup diced green chilies
2 tablespoons mayonnaise
1 teaspoon chili powder
1 cup sour cream
1/4 cup chopped green onions
2 avocados, mashed
1 tablespoon lemon or lime juice
1/2 cup crushed cooked bacon
1 cup shredded cheddar cheese
2 tomatoes, chopped
1/2 cup black pitted olives
1. Place beans in skillet over medium heat and mash until smooth, while adding retained liquid to adjust thickness. Mix mayonnaise, chili powder with refried beans. Mix sour cream, green onion and avocado, lime juice, bacon in separate bowls.
2. Spoon layer of bean mixture into casserole dish, then layers of sour cream mixture, avocado mixture and chilies. sprinkle on layer of each ingredient in tomatoes and olives.




Sweet Tamales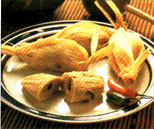 16 large corn husks
1 1/2 cup vegetable shortening
4 cup corn tortilla flour
3 teaspoon baking powder
1 teaspoon salt
1 1/2 cup raisins, brown sugar
1. See tamale basics below before starting preparation. Prepare dough by beating shortening until fluffy. Mix in tortilla flour, baking powder, salt and water until dough has spongy texture. Mix in raisins and sugar.
2. Form dough into 16 oblong 2" by 4" pieces, place in center of husks. Enclose dough by folding in husk ends and wrapping around dough, allow room to expand. Place, seaside down, on dish. Cover with damp towel until ready to steam.
3. Steam tamales. Serve warm, no sauce is needed.
Tamale Basics
Before starting any tamale recipe, prepare corn husks and
filling. Generally, shredded meat filling must be prepared and ready for use.
Preparing Corn Husks
Use fresh or dried corn husks. Each tamales requires at least one large husk or two small husks. remove corn silk form husks. Make dry husks pliable by soaking in hot water while preparing dough and filling. keep water hot. (Aluminum foil or banana leaves can be substituted for corn husks if desired.)
Steaming Tamales
Place a rack in deep pot, fill with hot water to base of rack. Stand tamales upright and loosely on rack so steam can circulate. Bring to boil, cover and boil about 1 hour. Add hot water to maintain level but do not allow to reach tamales. Check that tamales are done by removing one and opening husk to check that dough is firm and does not stick to husk.
Mexican Quiche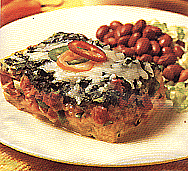 1 to 1-1/2 teaspoon cooking oil
7 corn tortillas
1/2 cup all-purpose flour
1-1/2 teaspoon chili powder
1/2 teaspoon salt
2 medium tomatoes, shopped
2/3 cup salsa
6 to 8 green onion, sliced
1 to 2 jalapeno peppers, seeded and finely chopped
8 slightly beaten eggs
1 cup 1% lowfat milk
1 10-ounce package frozen chopped spinach, thawed and well drained
1 cup shredded Monterey Jack Cheese (4 ounces)

1. Lightly brush the oil on the bottom and up the sides of a 2-quart rectangular baking disk. Place tortillas in the bottom of the baking dish, overlapping and cutting to fit as necessary.
2. Combine the flour, chili powder, and salt. Sprinkle half of the flour mixture over tortillas. Combine tomatoes, salsa, green onions, and chopped jalapenos. Spoon over tortillas. Sprinkle with remaining flour mixture.
3. In a medium bowl combine the eggs. 1% milk, and spinach. Pour egg mixture evenly over the mixture in baking dish. Bake, uncovered, in a 350 degree oven for 30 minutes. Sprinkle with cheese and bake 5 more minutes more. Let stand 10 minutes before serving. If desired, garnish with sliced Galapagos. Makes 8 servings.




Shrimp Fajitas

1/2 lb medium-size raw shelled shrimp
1/4 teaspoon each: salt, pepper, ground cumin, chili pepper
1 teaspoon finely diced dry cilantro or parsley
1 teaspoon oil
1 tablespoon lemon juice
1/2 each: medium size green, red and yellow bell peppers
1/2 medium onion
1 tablespoon teriyaki sauce
1 medium tomato, cut in wedges
4 flour or corn tortillas, or cooked white rice
1. Devil shrimp, rinse and pat dry with paper towels. Mix salt, pepper, cumin, chili powder, cilantro, oil, lemon juice in bowl, add shrimp and marinate for 30 minutes. Cut vegetables lengthwise and separate onion rings.
2. Heat 2 tablespoons oil in skillet over high heat, add vegetables, fry until edges are lightly browned. Push to side of skillet, add shrimp and fry until cooked. Add teriyaki sauce, tomatoes and mix with shrimp, sauté 1/2 minute. Serve with warm tortillas or cooked white rice. When serve with tortillas, salsa and sour cream go well with fajitas.




Spinach Enchiladas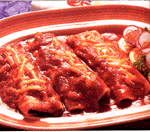 3 1/2 cups enchilada sauce
6 corn tortillas
1/4 cup vegetable oil
1 1/2 cup chopped cooked spinach
(a) 6 tablespoon chopped onions
2 1/2 cup shredded cheddar cheese
1. Warm sauce in pan, spread 1/2 cup in baking tray. Heat oil in skillet, dip each tortilla in hot oil, 5 seconds, until soft. Drain, dip in warm sauce and place in baking tray.
2. Spread 1/6 of (a) down center of each tortilla. Wrap tortilla around filling to form enchilada and place seam-side down in baking tray. Cover with warm sauce and top with retained cheese. preheat oven to 350F and bake 15 minutes.