Pizza Crust Dough
2 1/2 to 3 cups flour
1 package (1/4 oz) fast-rising dry yeast
1 teaspoon sugar
1/2 teaspoon salt
1 cup warm water (105 to 115 F)
2 tablespoons olive oil
Cornmeal
Combine 2 1/2 cups of flour, yeast, sugar and salt in large bowl. Add water and oil; beat with electric mixer at low speed 1 minute. Beat at high speed 3 minutes. Stir in enough of remaining 1/2 cup flour to form soft dough. Turn out onto lightly floured surface. Knead 8 to 10 minutes or until dough is elastic. Place in lightly greased bowl; turn to coat. Cover; let rise in warm place until double in bulk. about 45 minutes. Punch down dough. Cover; let rest 10 minutes. Roll dough into a circle; prick several times with fork. Cover ; let rest 10 minutes.
Preheat oven to 425F. Generously grease two baking sheets; sprinkle with cornmeal. Place pizza on baking sheet; bake 8 to 9 minutes or until golden brown. Cool on wire racks.
Party Pizzas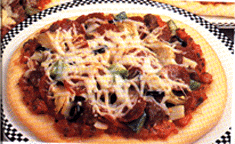 Pizza Crust Dough
8 ounces fresh Italian sausage
1 tablespoon olive oil
1 medium onion, chopped
1 clove garlic, minced
1 can (16 oz) plum or whole tomatoes, broken up
1 teaspoon dried basil leaves, crushed
1 tablespoon oregano leaves, crushed
1/2 teaspoon salt
1/2 teaspoon dried rosemary leaves, crushed
4 ounces pepperoni, thinly sliced
1 small green or red bell pepper, cut into 1.2-inch pieces
1 small onion, coarsely chopped
1/4 pound fresh mushroom, sliced
1 can (2 1/4 ounces) sliced ripe olives, drained
1 jar (6 ounces) marinated, quartered artichoke hearts, drained and halved
Crushed dried red pepper
3 cups (12 ounces) shredded mozzarella cheese
1/4 cup (1 ounce) grated Parmesan cheese
Prepare Pizza crust Dough. Remove and discard casing from sausage. Heat small skillet over medium heat until hot. Crumble sausage into skillet. cook, stirring to separate meat, until no pink remains. Pour off drippings; set aside.
Heat oil in medium skillet over medium-high heat. Add medium onion and garlic; cook and stir until onion is soft. Add tomatoes, basil, oregano, salt and rosemary. Reduce heat to low; simmer, uncovered, 30 minutes, stirring occasionally. Cool.
Preheat oven to 425F. Spread sauce over prebaked crust. Place sausage or pepperoni, small onion, mushroom, olives, artichoke hearts and crushed red pepper evenly over crust. Top with remaining pepperoni and cheese. Place pizza on baking sheet; bake 12 to 14 minutes or until heated through.
Spaghetti and salmon with cream sauce

3 tablespoons butter
3 tablespoons half & half milk
3 cups milk
3 tablespoons flour
salt
pepper
spaghetti noodles
6 thin salmon slices
Parsley, finely chopped
Melt butter in a saucepan over medium heat. Slowly spread in the flour. Stir constantly until golden brown. Pour in milk little by little. Add salt and pepper. Stir and cook until sauce is smooth then add the half & half milk.
Cook spaghetti noodles in a stockpot until soft. Drain and add the noodles, salmon slices into cream sauce. Top with chopped parsley.
Red Pepper-Sauced Halibut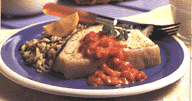 Ingredients:
4 fresh or frozen halibut steaks (about 4 ounces each)
1/2 cup finely chopped onion
1 large clove garlic, minced
1 tablespoon butter
2 teaspoons all-purpose flour
1/4 teaspoon dried oregano or basil, crushed
1/8 teaspoon salt
3/4 cup 1% low-fat milk
1/2 cup chopped roasted red sweet peppers
2 teaspoons tomato paste
Step by step:
1. Thaw fish, if frozen. Skin fish, if desired. Season fish with salt and pepper; place in lightly greased shallow baking pan. Bake in 400 degree oven for 12 to 15 minutes or until fish flakes when tested with a fork.
2. Meanwhile, in a large skillet cook the onion and garlic in butter until tender. Stir in flour, dried oregano or basil, and 1/8 teaspoon salt. Add 1% lowfat milk all at once. Cook and stir until slightly thickened and bubbly.
3. Stir in roasted red peppers and tomato paste; heat through. serve over fish. If desired, garnish with fresh oregano. Makes 4 servings.




Twist Sour-dough Bread

Ingredient:
Overnight Starter:
1 cup sourdough starter
1 cup warm water (105F, 40C)
1 cup all-purpose flour
In a large bowl, combine sourdough starter, warm water and flour. Cover and let stand overnight.
Other Ingredients:
1 envelop active dry yeast (1 tablespoon)
1/4 cup warm water (105F, 40C)
1-1/2 teaspoon salt
1/4 cup vegetable oil
1 pkg. sour cream sauce mix
2 to 3 cups all-purpose flour
1 egg
1 tablespoon water
Grease a large baking sheet; set aside. Sprinkle yeast over 1/4 warm water. Set aside to soften 5 minute. Stir softened yeast mixture into overnight sourdough mixture. Stir in salt, oil and sour cream mix. Stir in enough flour to form a soft dough. Turn out onto a lightly floured surface. Knead dough 8 x 10 minutes or until smooth and elastic. Roll out kneaded dough to a 16" x 12" rectangle. Cut lengthwise into three 16" x 4" strips. Place strips parallel to eh other on prepared baking sheet. Keeping seams inside, braid strips beginning at center and braiding to ends. Lightly pinch ends together. Cover with a cloth and set in warm place free from drafts. Let rise 50 to 60 minutes or until doubled in size. In a small bowl, beat egg. Beat in 1 tablespoon water. Brush egg mixture over surface of loaf several times as dough rises. Preheat oven to 350F (175C). Bake loaf 40 to 50 minutes or until golden brown. After 30 minutes, if loaf is golden brown, cover with a tent of foil to prevent further browning. Remove from baking sheet. Serve warm or cold. Make 1 large twist.